Top 10 Most Commonly Asked Questions About Smartlipo in Durham, Raleigh, and Charlotte, North Carolina
With the variety of liposculpture treatments available, it's difficult to know what techniques and technologies are right for you. At Renewal Body Contouring, we utilize the Smartlipo Triplex™ and Vaser Liposculpture, the most advanced liposculpture technology available, to achieve  superior results. To understand how Renewal provides its patients with the best Liposculpture procedures available, here we answer some of your most common questions regarding our body sculpting procedures: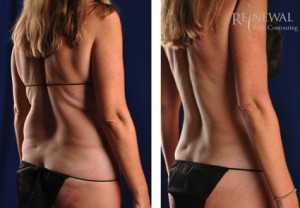 What is Smartlipo?  Smartlipo uses laser fiber technology to melt away unwanted fat. While standard liposuction removes fat in its solid form through a small tube, or cannula. Smartlipo allows for less trauma to the body by removing fat in liquid form.
Renewal utilizes the latest advancement in Smartlipo—the "Smartlipo Triplex™" technology. This latest Smartlipo technology comes equipped with three wavelengths that target fatty tissue and optimize skin tightening. The Thermaguide™ sensor technology provides our Duke-trained surgeon,  Dr. Miller,  with real time temperature monitoring to reduce the risk of burns to the skin and other tissues. This gives you an optimally-sculpted physique with less risk and less downtime.
1. Am I a good candidate for Smartlipo Triplex?
 This is a difficult decision to make without understanding all your options and reviewing them with your surgeon. All too often patients make their own diagnosis, either through recommendation from a friend, exposure to advertising, or by simply researching online. There are many different technologies and techniques available. Choosing which procedure is right for you should be a decision you make with the help of your surgeon.
2. What types of anesthesia are used during a Smartlipo procedure? 
On the day of the procedure you are given several medications: one for pain and the other for sedation. After you start feeling sleepy, you will be transferred to the surgical suite and will receive local numbing medicine. Only after the area is numb does the procedure begin. We use only local anesthesia to reduce recovery time and to alleviate the unnecessary risks associated with general anesthesia.
3. How much does Smartlipo cost? 
Because Smartlipo can be performed onsite and with minimal anesthesia, the procedures cost much less than traditional lipolysis. Treatments start at $1,429 per area, but cost depends on the size and complexity of the procedure.
4. What is the typical recovery time with Smartlipo? Patients recover at their own pace but are instructed to take at least two recovery days after the procedure. Typically, the smaller the area, the quicker the recovery. Most patients will need to wear a customized compression garment for up to three weeks following surgery.
5. What areas of the body can be treated with Smartlipo? Smartlipo is ideal for any localized areas of the body such as the abdomen, flanks, arms, thighs or chin. Patients will see good skin contraction in these areas with a more natural-looking result.
6. Who should I trust with my Smartlipo procedure? 
Patients need to be careful when researching surgeons. Many physicians who do not specialize in this type of treatment will often offer the procedure. Dr. Miller is a national Smartlipo instructor in partnership with Cynosure, the manufacturer of Smartlipo, and has extensive, specific training with the technology to achieve optimal results. He has performed over 1000 Smartlipo procedures to date.
7. How long do the Smartlipo results last? 
Smartlipo permanently removes fat cells from the body. However, it is important for patients to maintain an active and healthy lifestyle. We try to help patients establish an overall health and wellness track through The Vital Plan. We encourage patients to view their transformation at Renewal as a new path to a healthier, happier lifestyle.
Contact us TODAY to schedule your free, complimentary consultation >