It is essential to determine your medical candidacy and discuss your treatment options before you commit to traveling to our center for your treatment. The first step for any out-of-town visitors is to have a thorough phone consultation. Below is a list of steps that you will need to follow when setting up your phone consultation with Dr. Jason Miller for your Renewal Body Contouring procedure.
Submit Photographs of yourself to [email protected]. Please make sure to follow the Photograph steps listed below; a staff member will e-mail you our patient intake form after submitting pictures.
Complete client intake form and email it to the office via [email protected].
Please call the office at (919) 224-8020 to schedule your phone consultation with Dr. Miller.
If you are considered to be a candidate and decide to come to Renewal Body Contouring for your treatment, we will schedule your preoperative appointment.
The remaining balance is due on your pre-operative appointment date at Renewal. Please keep in mind that the length of your stay will vary depending on the procedure being performed. We will assist you in arranging all necessary travel elements for your stay with us.
How To Properly Take Your
Pre-Operative Photographs
Please note that your pre-operative photographs should be taken digitally and emailed to [email protected] before your phone consultation. Please take photographs mimicking the poses below either nude or with underwear or a bathing suit on. If you do not have someone else to take the photos for you, you may take them in the mirror.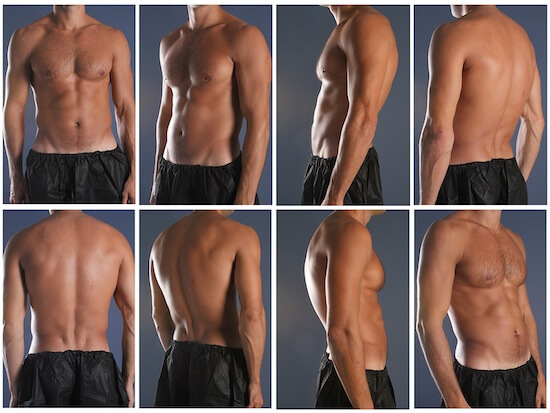 Hotel Accommodations
Umstead Hotel
919-447-4000 100 Woodland Pond Dr. Cary, NC 27513
*Embassy Suites
919-572-2200 8001 Arco Corporate Dr. Raleigh, NC 27617
*Hampton Inn & Suites
919-484-0500 8021 Arco Corporate Dr. Raleigh, NC 27617
*special rates for our out of town guests
Things To Do
Brier Creek Shopping Center
Please note that all travel arrangements can be made through the Renewal Office.