The Advantage of Local Anesthesia for Liposculpture
Local Anesthesia vs General Anesthesia For Fat Reduction Surgery
General Anesthesia involves infusing medication usually directly into the veins that force patients to sleep during surgery.  Local anesthesia involves injecting numbing medicine directly into the area to be treated and waiting until it is completely numb before the treatment.   Research shows the risk of complications including death is significantly greater with the use of general anesthesia.  Given the advantages of safety and recovery, more patients are electing to have their procedure under local anesthesia.  Below, we answer frequent questions asked about the anesthesia used at Renewal Body Contouring.
I have a low tolerance for pain.  Is it going to hurt if I'm not asleep?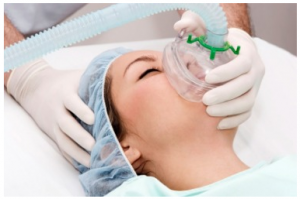 Once the local anesthesia is placed, the person undergoing the procedure rarely feels anything more than a slight pressure, and most patients are comfortable enough to carry on a conversation or sleep during their treatment.
The biggest difference patients notice is after the procedure.  Traditional liposuction under general anesthesia requires a period of time to wake up, and because general anesthesia masks the damage of tissues, the patient typically wakes up in pain.  For several days after traditional liposuction, the patient experiences bruising and sometimes severe pain that require several days to recover.
In contrast, Tricontour Liposculpture uses a multilayered local anesthesia technique to virtually eliminate discomfort during the treatment.  Because the procedure is more gentle to the tissues, the there is less pain and bruising and a shorter recovery time.
Will the surgeon be able to fully treat the area under local anesthesia?
There are two potential limiting factors to consider with a treatment for local fat reduction.  There is a limit to the amount of numbing medicine and the amount of fat removed when local anesthesia is used.  These limitations are designed to ensure greater patient safety.  However, these restrictions very rarely affect the surgeon's ability achieve the desired results. The lower risk of complications and the easier and quicker postoperative recovery give the advantage to the use of multi-layered local anesthesia.
Explore more:  For more information about advances in improving comfort and producing outstanding results, call or schedule a complimentary consultation.  If you would like to read more about what procedure is right for you read further.