Liposculpture VS Tummy Tuck – What's the difference?
What is the difference between laser lipolysis "liposculpture" and abdominoplasty or "tummy tuck"?
Abdominoplasty is an invasive procedure. It requires a large incision and the removal of excess fat and loose skin from the middle and lower abdomen. This procedure tightens the skin and flattens the abdomen. It requires at least one week of downtime and a higher level of anesthesia, possibly general anesthesia.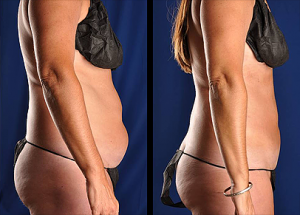 Liposculpture using Smartlipo Triplex is completely different. It is a minimally invasive procedure requiring only small incisions. The laser liquefies the fatty and fibrous tissue, which can then be easily removed. To achieve maximum tissue tightening, Dr. Miller will combine his tummy tite technique with Smartlipo Triplex. This requires applying additional laser energy to another layer of tissue. While the combination can give a nice result, it is not the answer for patients with significant skin laxity and stretch marks. The best way to find out which procedure is right for you is to have an expert evaluation from Dr. Miller.
In your complimentary consultation, Dr. Miller will determine which procedure is best for you. If you are a better candidate for a tummy tuck, Dr. Miller will refer you to a plastic surgeon who he knows and trusts.
Renewal Body Contouring, PLLC serves Raleigh, Durham, Fayetteville, Chapel Hill, Winston-Salem, Greensboro, Charlotte, and the surrounding areas of the Carolinas.